Clydesdale Bank voted Moneywise Mortgage Innovator of the Year
19th June 2013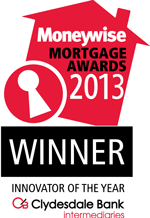 At Clydesdale Bank, we want to do all we can to help you get closer to your clients, so we created a mortgage that fits perfectly with their lifestyles. And our creativity has been rewarded; we've been voted 'Innovator of the Year' by Moneywise in their Mortgage Awards 2013.
Whilst other lenders have withdrawn completely from the interest-only market, we're proud to offer your clients the opportunity to minimise their payments initially but with the confidence of knowing they will repay their mortgage fully later:
Lower interest only fixed-rate payments for first 3 years
Capital and interest repayment after 3 years.
Already proving very successful since we launched it exclusively to the broker market earlier this year, the Low Start Mortgage has attractive tiered rates and is available for loans of £100,000 or more. What's more there's no need for a repayment vehicle, we simply assess the application on your client's current income and monthly repayment based on a repayment mortgage.
It will appeal to any of your clients who want to minimise their repayments in the first 3 years of their mortgage term, particularly professionals who are expecting a significant salary increase or earn large bonuses, young couples looking for a career or family break or even clients wanting to undertake substantial property improvement work.
Act now to find out more about our Low Start Mortgage and how Clydesdale Bank can help you to help your clients